Chisel Vs Semi-Chisel Chainsaw Chain
A chisel chain rips through wood with reckless abandon and cuts with an ultrahigh-speed, whereas a semi-chisel chain is slow but delivers clean cuts.

The Author
There are various sizes of Chains, and no size can be perfect for all Saws.
The different sizes and lengths are made for varying purposes.
Meanwhile, some Chainsaw chains are chiseled, some are partially chiseled, and others are not chiseled.
You are perusing the right article if you are eager to know about the differences between these various forms of chiseled Chainsaws.
This article will compare and contrast chisel chainsaws with semi-chisel chainsaws.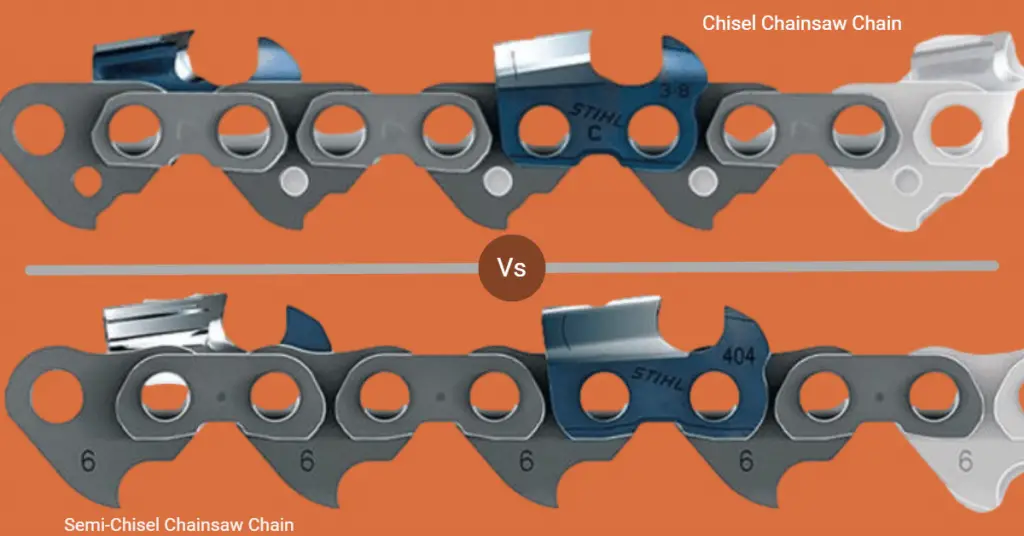 The key differences between Chisel Vs. Semi-Chisel Chain
The full and semi-chisel chainsaws are top-of-the-notch woodcutters.
They both deliver excellent cuttings but yet, but there are differences in their pattern of cutting.
A chisel chain rips through wood with a reckless abandon and cuts with an ultrahigh speed, whereas, semi-chisel chain is slow, but delivers clean cuts.
The chisel chain does not maintain sharpness for a long time after sharpening, but the reverse is true with the Chisel chainsaw.
Before buying, it is best to research the two types of chains and choose an ideal one that meets your need.
If you have a large job that requires quires quick delivery, the Chisel chainsaw is the perfect fit because of its fast-paced cutting abilities.
A chisel chain Chainsaw is ideal if you are cutting clean wood.
It does not cut dirty items; hence, a semi-chisel chain is okay for clean and dirty woods.
In all these, it boils down to preferences and choice, so go for the type of chisel chainsaw that suits your needs.
Why you need to be knowledgeable about the differences
It is quite imperative to know the differences between the chisel and the semi-chisel chainsaw.
If you are a handyman and the chainsaw is one of your regular working tools, you should give it a try.
These two chainsaws have their benefits and cons.
Unraveling the core differences depends on the pros and cons, and it goes a long way in revealing which chainsaw is better among the two.
Now, let's take a topical look at these two chainsaws.
Semi-Chisel Chainsaw Chain
The teeth of the Semi-Chisel Chain have round corners and globular gridded edges.
The rounded edge of the chain makes it easy for it to be filed.
When using the semi-chisel chainsaw, you are guaranteed of maintaining a sharp edge for a longer time than when using a full chisel chain.
The sharpness of the Saw will remain intact even when the sawing is done in a rough condition.
In terms of operating speed, the semi-chisel Chain is slower than the speed of the full-chisel chainsaw.
A plethora of handymen prefer to use it for shredding dirty wood, softwood, dry wood, etc.
The Pros, benefits and cons of the semi-chisel chain are highlighted below:
Pros
It is mostly preferred by handymen for shredding dirty woods.
It does not get blunt quickly and it keeps it sharpness for a long while.
There are no kickback risks, as the semi-chisel chains reduces lower kickback to the barest minimum.
They are not aggressive compared to the chisel chains.
Sharpening of this chain is a breeze, as you'd do it without any hitch.
Cons
Its pace of cutting is very slow and this led to delays in the work.
Chisel Chain
If you are on the search for a chainsaw that will deliver quick cutting actions, this chisel chain will do it for you efficiently.
Its teeth have square corners and this makes it easier for them to cut wood aggressively.
It is arguably the most popular type of chain saw in the world and it does not cut any dirty point.
In addition, it is prone to intermittent display of the Kickbacks. Here are the pros and cons of using Chisel Chain chainsaw.
Pros
Very quick cutting procedure.
It cuts with a great deal of aggression.
The edges are sharp; hence, the cutting is safe.
Cons
The frame of the cutter is not very sharp
You don't just wake up and begin to sharpen your chainsaw. Sharpening of the chainsaw is a bit difficult.
There is a great chance that every chisel chainsaw might experience kickbacks.
It desists from making cuts on dirt.
Final Words
Chainsaws come in a variety of makes and types.
The chisel chainsaw is one of such and it is very ideal for large jobs since its cutting speed is high.
The corners are square-like in shape. When it comes to tough wood, this particular chainsaw is advisable.
In terms of cleanliness and perfection, it is not ideal, but if you want a quick-fire work that can be completed within a blink, then this chainsaw is the best.
The high likelihood of kickbacks underlines why an experienced user should be in charge of Chisel chains.
The semi-chisel is the most popular and it has globular corner which makes it possible for the chain to hold the wood firmly once it begins the cutting process.
It cuts both hard and soft clothes without challenges such as kickbacks.
In terms of safety, this type of chisel chainsaw is the best, as you will never experience kickbacks when cutting soft woods.
The semi-chisel's bad thing is that it does not deliver the job on time.
Kindly use the comment box to contribute your idea about these two popular chisel chains.