Best Chainsaw Case Splitter
One of the biggest problems in chainsaw engine repair is getting access to the inside. There are many ways this can be accomplished, but one that I like is using a chainsaw case splitter aka crankcase splitter.
These tools are designed to help you get into tight spaces and remove bolts easily. The best part? They're relatively inexpensive!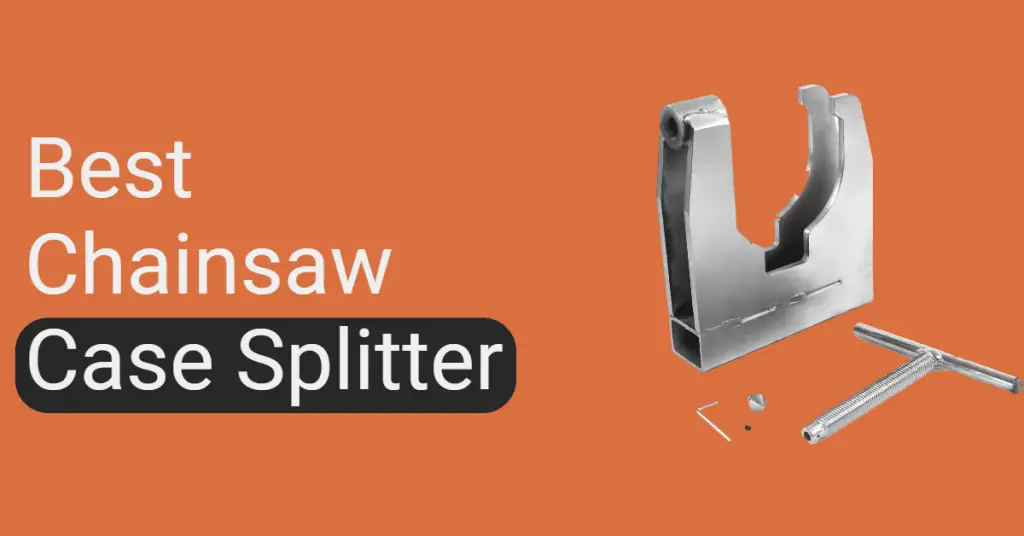 Top 3 Chainsaw Case Splitter of 2023
We have analyzed the top 3 chainsaw case splitters based on their size, dimensions, weight, and other features like prices, rating, and everything. Here you go and pick the right one.
Let's dive deep into the chainsaw world.
We are going to walk you through a lineup of top-rated chainsaw case splitters. Here are our 3 favorite chainsaw case splitters with expert analysis and our buyer's guide below.
Husqvarna 502 51
Husqvarna 502 51 is one of the highest quality Crankcase Splitters available in the market. It suits the following models but also fits many other makes and models.
Now, you can cut the toughest jobs simply and easily using this Crankcase Splitter. It will work on both Stihl and Husqvarna machines.
Husqvarna: 3120, 395, 394, 390, 385, 288, 372XP 281, 372, 371K, 371, 365, 353, 351, 346, 272K, 272, 271, 268K, 268, 265, 262, 261, 257, 254, 242, 61, 55, 51.
Stihl: MS660, MS650, MS640, MS461, MS460, MS441, MS440, MS381, MS380, MS361, MS360, MS260, 066, 065, 064, 046, 044, 038, 036, 026.
The weight of the product is 4.7 pounds so easy to carry and operate. One of the best things about this product is that it comes with Genuine OEM parts and accessories that ensure the highest quality of products. I love the Husqvarna case splitting tool. But there are other options!
Crankcase Splitter by RA
Remember, acquiring a chainsaw case splitter is an investment in your profession, not an expense so always choose a good product like this tool. It looks like a simple tool.
This model fits in the following brands:
Stihl: MS660, MS650, MS640, MS461, MS460, MS441, MS440, MS381, MS380, MS361, MS360, MS260, 066, 065, 064, 046, 044, 038, 036, 026, 3120, 395, 394, 390, 385, 288, 281, 372, 371K, 371, 353, 351, 346, 271, 268, 265, 262, 261, 257, 254, 252, 250PS, 250, 141B, 140B, 61, 55, 51, 18H.
Husqvarna: 3120, 395, 394, 390, 385, 288, 372XP 281, 372, 371K, 371, 365, 353, 351, 346, 272K, 272, 271, 268K, 268, 265, 262, 261, 257, 254, 242, 61, 55, 51.
Choosing a good Chainsaw Case Splitter is essential for any professional worth its salt. A tool that allows you to perform fine and varied cutting jobs on different materials. If you are looking for a high-quality tool, this tool is for you.
EPR Distribution Chainsaw Crankcase Splitter
This tool by EPR is compatible with Husqvarna, Echo, Stihl, Dolmar, Redmax, and many other models. By using this model, you can easily cut a huge pile of wood in one go.
This product is by EPR, one of the pioneer manufacturers of chainsaw crankcase splitters. It offers a great reliability score.
Whether you're trimming limbs, chopping firewood, or felling an entire tree, this chainsaw crankcase splitter is designed to provide long, trouble-free life.
If you cut wood several times a month, want a saw that has no hassle when trimming at full capacity, or just like to buy high-quality tools, then this is the category for you.
For this reason, we once again insist that you do not let yourself be blinded by the bargains, because in the end, it can be more expensive.
Factors to consider in buying a chainsaw case splitter
A chainsaw case splitter is a tool that is used for separating and splitting both sides of a crankcase shell.
When looking for a new chainsaw case splitter, there are many factors that you must take into account to make the right decision. When you finally decide to replace your old tool, we find that there are a large number of brands, models, features, and prices.
From each of these variables, you will have to evaluate its benefits, both in the short term and in the long term. So how do you choose a chainsaw case splitter?
Well, the first piece of advice that we are going to give you is that you do not make any hasty decisions and that you do not let yourself be dazzled by bargains or by those new features of the latest models.
For this reason, we are going to give you a series of tips so that your decision is the correct one and buy a chainsaw case splitter that adapts to your usual working conditions.
A reliable tool that guarantees the finishes you need for your profession. Go for it!
Following are some of the points you need to consider while buying a chainsaw splitter:
Research the product
Before you buy a chainsaw case splitter, it is important to research the product – Make sure to check:
Is a chainsaw splitter worth the buy?
What are the benefits to buy a crankcase splitter?
What are the top splitters available in the market for 2023?
We know, you will have such many questions at the time of buying the chainsaw case splitter. To find out the answers to these questions, we recommend many online sources.
Log width and weight capacity
It is very important to check the width and weight capacity of the splitter. It can be deceptive and if you will go with a thin log, it may not result always in a low weight. However, it depends on the different types of woods that you are going to perform on.
Format of the splitter
There are two types of splitters available in the market
Vertical or upright splitter
Horizontal splitter
According to your work, you can choose the format of the splitter.
Check the product
Last but not the least, in online forums or under the product, you will be able to read customers' reviews who have already used this product. This is also one of the best sources to find out whether or not the product is good enough or not.
In this way, proper research is very much important to narrow down your selection among hundreds of splitters available in the market.
And lastly, it is always advisable to buy from a trustworthy and highly reliable website or any other online source.
FAQ
Q: How to know which case splitter is compatible with my chainsaw model?
A: Check the workshop manual. It should have a part number.
Q: Stihl vs. Husky removal tool?
A: I have the removal tools of both Stihl and Husky. I use them for removal and assembly. I find Husky better and faster.
Q: Do I need special tools for reassembly?
A: You may need it if you are a beginner but after you become a bit experienced, it becomes easier to reassemble without using any special tools.
Q: The case gasket is leaking. what to do if I can't find a matching splitter?
A: A thick plate of steel a quarter inch or so will work.
Final Words
We hope, we have been able to provide you with a complete guide on the chainsaw case splitter. If you're going to buy it for the first time, our above-mentioned guide will also be very useful to choose the good one according to your needs and budget.