Best Chainsaw Chain for Cutting Stumps
Once you've dug up the tree stump in your yard, it's time to break out the chainsaw. Having a cordless chainsaw makes this job much easier and safer than ever before. But which type of chain should you use: a standard or an aggressive?
And what does that even mean? Let us guide you through the process with our handy guide to choosing the chainsaw chain for cutting stumps.
Stump cutting is one of the toughest duties for a chainsaw. It wrecks the chains with dirt and stones. it will kill your chainsaw bar eventually if you don't use the right type of chain or sharping it after seeing sawdust.
Let's come to the point. If you want to know which type of chain is good for cutting stumps, the answer is semi-chisel full skip chains. It cleans the sawdust better on a big cut.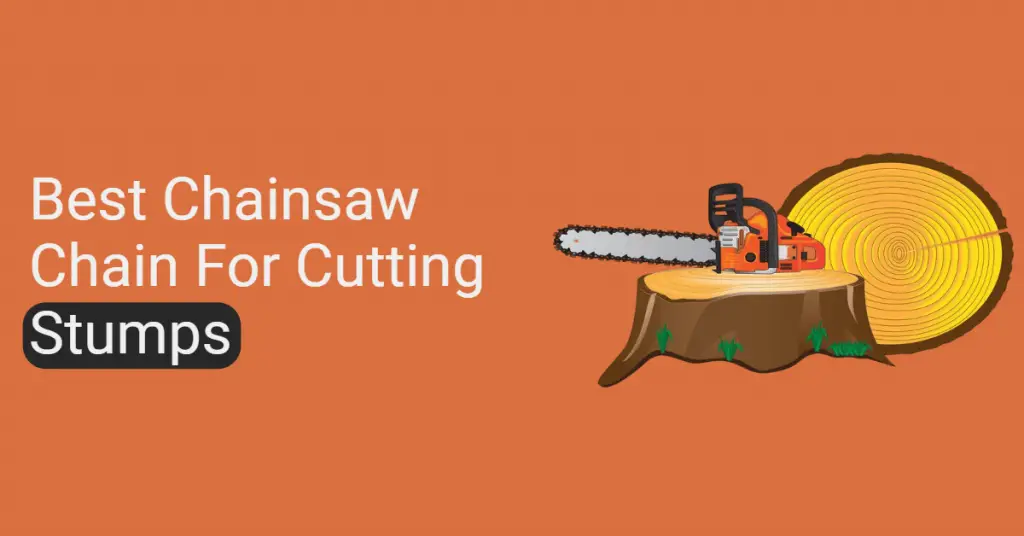 Top 5 Chainsaw Chains for Cutting Stumps of 2023
There is no universal chain that is considered to be the "best" type of wood. The perfect chain for cutting softwood might not be perfect for cutting stumps.
In the following section, I will provide my recommendations for a good chain for cutting stumps. I gave priority to which one can withstand dirt, soil & rocks, need less sharpening, and retail the edge over hours of use.
We have analyzed the top 5 chainsaw chains for cutting stumps based on their tooth, chain type, size, and other features like prices, drive links, and everything. Here you go and pick the right one.
Let's dive deep into the chainsaw world.
We are going to walk you through a lineup of top-rated chainsaw chains for cutting stumps. Here are our 3 favorite chainsaw chains with expert analysis and our buyer's guide below.
Stihl 3667 005 Carbide Chainsaw
Stihl chains are adequate and essential for working efficiently with the chainsaw.
This model offers extremely optimal chains to cover all needs, with different applications, powers, and machines, which can also be used in chainsaws not only from the Stihl brand. Stihl chains demonstrate robustness, high quality, and a price.
The RD3 of this model is extremely durable. It is suited especially for cutting dirty words, hardwoods, roots, treated words, and of course stumps.
It can easily fit with various models by Stihl including MS251, MS250, and 025.
The item weight of this chain is 12.7 ounces. And they are pre-stretched before being sold, eliminating the excessive stretching that occurs during the break-in period. The best part of this chain is that it requires less maintenance and so less oil.
Outdoor Power Deals Chainsaw Chain
High-performance chain, especially for professionals, and conversion work can be done using both logs and wood. It is completely chiseled and with a fast cut, for high performance.
It can finish the job of cutting stumps in record time
It is designed with solid carbide tipped so it is brazed to case hard saw chains for the incredible cutting ability as well as in life.
Undoubtedly, it has the incredibly highest quality and price ratio as well. It can easily fit with other brands as well.
If you are looking for a chainsaw chain that is easy to install and tough in performance, this model is right for you. It is an ideal product for both commercials as well as domestic use.
Oregon S62 Chainsaw Chain
Oregon is a popular name in the wood cutting industry for making guide bars, chainsaw chains, and other tools. Oregon S62 Chainsaw Chain is especially used by professionals.
They can remain sharp for a long time. It prevents corrosion and has a 100% guarantee when it comes to returns.
Contains steel cutters, to stay sharp for much longer, and is easily replaceable. If you need to do some heavy-duty stumpwork within a fixed time, this chain can be a good choice.
Also, this product is good for your DIY projects. It is capable to handle tough jobs. The good chain for home garden work or cutting storm-damaged trees or stumps. It works smoothly and its chain is more tolerant of dirt and dust.
The design of this chainsaw chain features low vibration so offers more comfort in your job. It can be reduced vibration by 25% which is great to work with.
Oregon S62 is available at an affordable price. It is very sharp and effective. Also, there will be no stretching problems. Easy to install and comfortable to use.
Tips For Cutting Stumps
The wrong chain can result in a high risk of kickback and injury. On the other hand, the right chain cuts smooth, and clear debris, and chips away from your cut.
If this is your first-time cutting tree stumps, I highly suggest managing an experienced supervisor or a professional user to supervise your work and guide you step by step.
Use a sharp chain and try to stay out of the dirt
Dig around the stumps. I suggest you dig to lower the ground level where you will operate the chainsaw. If you have to cut the stump ground level or smaller, this is a good way.
Take a look at the morse at the bottom. There is a high chance to have dirt in it. You can take an ax to trim the morse before cutting.
Cutting stumps 4 to 6 inches from the ground will save your chain from dirt and most rocks.
Keep the clutch side down and circle the stumps with it.
The abrasives around the bottom of the stump such as dirt or stones can damage the chain fast, then the bar, and eventually the saw itself. So, try to clean the area before starting cutting.
The larger chainsaw you use, the better. Use a professional chainsaw. It will get the job done quickly. I use a gas chainsaw with a 20″ bar (Husqvarna 266 SE). If you have dogs on your saw, it is better. you can hook the dogs into the stump. Rotate the saw into the wood and repeat this till you have gone around.
If you already have multiple chains, I recommend using the chain that has about two or three more filings left in its useful life span. This is because, after the work is done, the chain might be of no use.
If the bar length is not a big issue, you can use the shorter bar on the bigger saw.
If you have stumps under 10″ diameter, a mattock is enough for it. You can also use a chainsaw with an old semi-chisel chain for making them easier. One more advantage of using a mattock is that you can use the other end of the mattock to chop the tree roots.
If you have many stumps to remove, you can use heavy equipment such as a stump grinder or tracked equipment
For larger stumps, start with the dogs on the right side of a buttress root and sweep through with the pulling chain (bottom side of the bar). You can also drag it out of the earth with a chain attached to the back of a pickup. However, I recommend using the chemical method instead for average people.
Things To Consider Before Cutting The Tree
(With Stump)
If you haven't started cutting the entire tree yet, you can follow these tips: –
If you cut trees lower to the ground, it will make the job of cutting stumps easier by a great degree. In most cases, there is no point to cut trees 42″-45″ off the ground. You can cut just above the stump or 6″ away.
Cutting slightly into the bell of the stump is not very hard. Just keep in mind that When you get far enough into the tree, insert a couple of wedges behind the bar and tap them into place. Then if the bar starts to pinch, tap them a bit more.
It also gives you the advantage of driving a tractor or ATV over them
Different Solutions To Removing Tree Stumps
If you are a homeowner or don't want to operate your chainsaw for cutting stumps, there is an easy method for you. it is called the "Burning Method".  There is a tree stump removal product that comes in a powdered form, called " Stump-Out" which is designed to break down the wood fiber of stumps, leaving them porous.
If you operate a tree service business, I suggest you get a stump grinder. Stump grinding is half of any tree service business and it does help to make less cleanup getting the stump as low as possible. 
For a very large area or farm, if you want to stay ahead of time and effort, hire a dozer and in a few days, it will all be over, root balls and everything.
Buying Guide
Choosing the right chain for your saw is key. The last thing you want to do is go through a string of chains in one day, or worse yet, have to stop cutting because of it. Here are some things you need to know before buying one:
What type of wood are you cutting? Hardwood or softwoods?
How much power does the saw have? More power means more torque which can make it easier on your chain
Do you use your chainsaw often enough that frequent sharpening isn't an issue for you? If not, then get a low-cost chain.
When a person goes down the rabbit hole of saw chain options, he can become quickly overwhelmed by the choices out there.
To identify the appropriate models for your chainsaw and your cutting needs, we offer you our professional guide in the following:
A Wide Range Of Chainsaw Chains
There is a wide range of chains to meet the demands and needs of each user, and are appropriate for a wide variety of activities:
For beginners with occasional use: To cut firewood or a small tree (within a limit of 500 m² for a 30 cm thick wood maximum), we recommend using an electric chainsaw up to 45cc.
For intermediate users with occasional to intensive use: For farmers, municipalities, the construction sector, the landscape maintenance sector, etc. (to cut wood up to 60 cm thick and up to 1 ha), we recommend using a 38 to 62cc thermal chainsaw.
For professionals (lumberjack, arboriculturist, pruner, etc.) with intensive use (1 to 2ha with the wood of 90 cm thick max.): We recommend using a thermal chainsaw from 38 to 62cc or a chainsaw of 50cc and more.
The length of the chainsaw chain depends on the size of the chainsaw bar. The references of the chain are indicated on the bar. It is important to take note of these indications before replacing them.
If you want to buy your chainsaw chain, you have to identify the following 3 characteristics of your current chain: the chain pitch, the number of links, and the chain gauge. chainsaw appropriate to your chainsaw and your needs.
Chain pitch
The chain pitch corresponds to the distance between three consecutive rivets (or two drive links) divided by two. There are 4 standard chain pitches whose distance between the links corresponds to:
– 1/4 "= 12.70 mm;
– 3/8 "= 18.64 mm;
– .325 "= 16.50 mm;
– .404 "= 20.52 mm.
The Number Of Drive Links
The number of drive links determines the length of the chain. For this reason, it is important to understand how to determine it. There are 2 different methods to easily identify it.
The first method is to position your saw chain so that the drive links are facing each other. Then you have to count them two by two, including the links from the sides.
keep in mind that, the bar length varies in different chainsaw models and the chain size must vary accordingly. Today, the manufacturer uses the drive link method since it is a more accurate way of keeping their chain sizes in order.
Chain Gauge
The gauge corresponds to the thickness of the drive links that go inside the guide rail of the chainsaw chain. It is important to know this measure since the links must enter the guide rail to operate the chainsaw correctly.
To measure the chain gauge accurately it must be equipped with a caliper. The difference is made to the tenth of a millimeter.
The main measurements are 1.1 mm, 1.3 mm, 1.5 mm, and 1.6 mm. There are nine types of chains ranging from 1.3mm gauge to 1.6mm gauge full chisel
To facilitate this job of identifying data on their chainsaw chain, most manufacturers now indicate it directly on the bar. For most chainsaws, a chain with 3/8″ pitch and .050″ gauge, can cut through tough wood easily.
When our chainsaw chain is damaged, or if it has already been damaged, this has many negative effects when doing our gardening work.
So, having a good chainsaw chain will depend on the type of work to be performed.
A Few More Things To Check
Check if the chain can reduce kickback and vibration. Kickback makes the job of cutting stumps risky and Vibration causes operator fatigue
The Durability of the chain is very important. No one wants to change the chains one after another in Jobsite. Take a chain that will withstand hours of use without sharpening and provide maintenance-free use.
Try to avoid buying a full-chisel chain. It loses its sharpness and becomes dull quickly in cutting dirty wood such as tree stumps. The soil and rocks embedded with stumps will cause it. The same happens in cutting frozen wood. However, a full-chisel carbide chain can cut right through the hardest wood, tough materials, and stumps like butter. if you can keep the chain away from dirt, it can be a good option.
A semi-chisel chain is also a good chain for hardwood. So, even after you finish cutting your stumps, you can use the same chain later for hardwood.
A round tooth chain is much more abuse-friendly than a chisel tooth for cutting stumps or near-the-ground cuts.
Choose the chain that stays sharp even cutting stumps at ground level.
FAQ
Q: I'm a newbie in chainsaw. Can I cut tree stumps?
A: I suggest you get a bit of experience in running chainsaws and cutting softwood before cutting tree stumps. This is because, without any experience, it is hard to handle the chainsaw with proper control. There is also a high chance to dig the chain into the ground. The dirt and rock will wreck the chain.
Final Words
Any wood left on the stump won't do you any good. When winter comes, you can use them to heat. Cutting stumps is just a morning's work.
Once the sun was over the yard arm you can spend the rest of that day savoring the warm spring air and enjoying several beverages on your patio under a big umbrella.
Thus, by using our buying guide, you can buy the chainsaw chain for cutting stumps. Using a dull or broken chain accelerates wear on the chainsaw bar and sprocket and creates safety hazards. In case it happens to you, you have to change it as quickly as possible.