6 Best Times To Buy A Chainsaw For BIG Discount (Save $150+)
The best time to buy chainsaws for discounted prices is Black Friday and Cyber Monday & during the fall. Husky or the Stihl is on sale during the fall and it is the peak wood-cutting season.

The Author
Do you want to know the best times when you can buy a chainsaw with HUGE discounts or deals like free chain/oil?
These are EXACT times when you can buy your chainsaw and save $150-$250.
Being a tree surgeon, I own multiple saws. I have been buying my chainsaws in these times for a few years.
To be honest, I also use some techniques which are not dependent on any specific time.
I use these techniques to get good deals anytime for chainsaw oil, gas, and other accessories. (and you can do the same)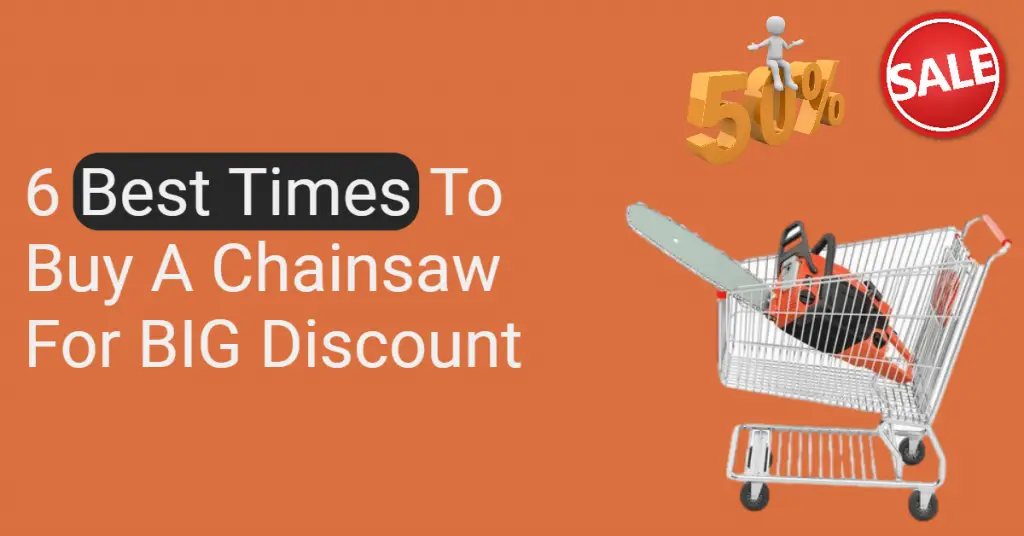 Best Times of Year To Buy
In buying a chainsaw, some people wait for the right cutting season while some wait for the best deals or discounts.
You can save some bucks through discounts if you buy at a specific time, from a specific source, and through a specific payment method.
Whether you buy a homeowner or a pro saw, you can use a few options to lower the current price and get a good deal.
This applies to both the brand new and used saws.
In some cases, you can get a good deal, such as a free chain or oil from the dealers/store, with some research.
In this article, I will talk about those methods.
Best Time To Get Discount
Getting a discount on a chainsaw is a hit & miss in most cases.
Sometimes brands offer discounts during peak seasons and around the end of the financial year to clear stock.
I'm mentioning a few periods when some brands offer discounts below:-
During the fall: it is peak wood cutting season. Husky or the Stihl are on sale during this time.
Black Friday/Cyber Monday: Some people have the misconception that this shopping festival is for home electronics such as Tv or digital products. Some chainsaws are on sale on Black Friday/Cyber Monday.
In tax season, the saws sell at a high price. So, you avoid this time if possible.
Dealers/distributors: sometimes, they offer a discount as a market promotion. Contact them if they have any offers running at the moment.
Pro Tip: Discounts are mainly for homeowner chainsaws. I never see any discount on the professional-grade saw.
I bought once Stihl 170 and Stihl 250 at a discounted price. it mainly depends on the dealers.
If you want to buy a pro saw, I suggest not holding your breath for a discount. Take it when you need it.
Dealer Days From Stihl
Stihl started a yearly promotion program named "Dealer days" from 2015. Some also call it winter warm-up.
Sometimes, it only keeps a specific chainsaw model on sale, homeowner grade. However, in Ontario, some pro saws were on sale last year.
In Europe, they started the promotion in 2015 and offered homeowner chainsaws such as model MS271 and MS291.
You can get similar promotions from Black+Decker and other brands.
Pro Tip: The yearly promotions are advertised on the Stihl website and newspaper.
But there will be no advertisement if a dealer gets a discount from the stihl.
They started offering some dealers a big discount on pro-grade chainsaws from 2016.
Obviously, these dealers are those who have been selling Stihl's products for more than decades.
Keep in mind that all pro chainsaws are not under the offer or promotion.
Last year, when I bought Stihl MS362 and Stihl MS441, I got a discount, but I had to pay the full price for Stihl MS461.
For these deals, contact the dealers. These deals and promotions are not advertised as much as "Dealer days," but they exist.
For example, If you find one such deal, you can pick a second-generation Stihl 362 for the price of an Echo CS620.
Just Before You Need To Cut
For many people, the best time is when they need to use it or when they will get it at a low price. So, These can be:-
After a major hurricane
Need to cut firewood for winter
Need to trim branches
Do you use a chainsaw a few times or around the year?
Cost factors such as availability of discounts, tax season, etc.
If you want to buy a chainsaw to clean up hurricane debris, I suggest buying it earlier.
If you have never used a chainsaw before, I would suggest you buy a chainsaw with lightweight as it is safer.
Today, with the help of an advanced weather forecast, we can know about any upcoming hurricane earlier.
The main reason is that it will be hard to go out and shop for a chainsaw after a hurricane.
Secondly, there may be a chance of stock out since many people will buy their saws then.
Pro Tip: If you buy a chainsaw mainly for a hurricane, do not buy an electric or battery-powered chainsaw, as, after a  hurricane, you may face load shedding and have to spend some days without electricity.
A gas chainsaw is a good option for such a situation.
If you have to cut firewood for winter, I suggest you buy it around 8-10 months earlier. It takes some time for the wood to season.
Some people use a chainsaw a few months a year, while some use it around the year for trimming or maintaining a big property of their own.
Most homeowner falls into this category.
If you are one of them, buy it when you get a discount or a big deal if you can wait.
Pro Tip: If you do pruning or cutting limbs, I suggest you not cut in the winter and at the beginning of spring.
Doing so will get a lot of sap which will invite bad pests.
Before The Right Season comes
There are 4 cutting seasons when people cut most. They are:- Spring, Summer, Fall, and Winter.
Some people use chainsaws only in one season, and some in multiple seasons.
There are many advantages of buying chainsaws just before or at the beginning of the season.
You will get a lot of discount offers.
Local stores and dealers offer the best deal in the fall.
Online shops such as Amazon and eBay also offer a great deal in these seasons as these seasons are the peak cutting season.
How To Get the best deal Anytime
Online Store
The easiest way to try luck and get a good deal is Amazon. You can get discounts from brands, sellers, or even amazon anytime.
Local store/dealers
If you want to buy from local dealers, visit multiple dealers and compare prices before buying your desired saw.
The price can vary from dealer to dealer.
Brands such as Stihl do not set the selling price. So, the best deal depends on your location and nearby dealers/stores.
Tip: Doing research can give you the best deal from local stores/dealers.
I bought a chainsaw for 20$ less price, with a 2″ bigger bar (18″ instead of 16″) and 1 extra chain.
credit card companies
If you own a credit card, you can use it to get a discount.
Most credit card companies offer cash-back incentives to their cardholders.
If you pay through your credit card, you have to pay much less than the original price.
I love it so much because of the amount of money I can save.
This cashback, aka incentives, can easily beat any dealer's discount offer.
You can get $250 off on purchases of $1000 or more. For a chainsaw of $500-$700, you can get $100-$200 off.
Tip: Even if you have a credit card, I suggest asking for a discounted price from the store. It will reduce the total amount.
How To get the best chainsaw deals from dealers/stores
Build a good relationship with dealers.
This will help you in a number of ways, including free tips and suggestions on your projects from experts.
In general, dealers expect to make a long-lasting relationship with the customers and sell consumables such as chains, oil, mix, etc, regularly to them.
They make a higher profit in these recurring/consumable products than the chainsaw(one-time purchase).
A few ways to build a good relationship can be:-
Tell them you will buy another model chainsaw(such as Stihl 441 or Stihl 461) from them soon. It needs to be a more expensive saw than what you will buy now! They may ask for no extra charges for freight. It works for me.
Buy chainsaw chains, oil, mix, and other parts from the same dealers. They remember recurring customers.
Build projects and discuss them so that they can know you by name. Almost all guys working in a power tools store know a bit about chainsaws, but someone from servicing is the best. whenever you need a chainsaw, you will get the proper treatment.
Note that most dealers (if not all) of power tools cannot give much discount even if they wish.
They have limited wiggle room. They make a little profit on whole goods.
After purchase, they have to spend on shipping and labor.
Sometimes, they cannot even profit on some saws considering their true costs on products.
That's why they cannot offer a big discount unless the manufacturers sanction.
The cost/profit ratio of the dealers is low. it just can arrange some food for them at the end of the day.
Among all brands, stihl gives the lowest margin to the dealers. The profit margin is so narrow on the chainsaw.
They make a little profit on consumables.
Some deals give discounts on chainsaws expecting you to make profiles from the consumables if you buy from them regularly.
You can buy accessories such as gloves, helmets, or chainsaw boots for safety to convince the dealer of a discount.
The bottom thing is that you cannot expect a discount from all dealers. The only way to check is to ask. So ask them.
Tip: I buy chainsaws by paying MSRP or DSRP.I try to convince them and politely ask for a discount.
If they don't agree, I move on to other dealers/stores.
I get more positive responses from hardware stores and tools/equipment rental/sales stores.
Does "Buying time" matter?
It depends on the situation, and there is no correct answer which can suit everyone's needs.
If you have a preferred brand, such as Huskies, I think there is no need to wait to buy a new chainsaw.
However, you can wait for used saws as the price fluctuates considerably.
Best Time To Buy Used Saw
Needless to say, you want to buy a used saw at the price of a new saw.
The best time for buying used saws is when the market gets so many saws and the price decreases.
The best time for buying used saws actually depends on the cutting seasons. I'm mentioning a few below:-
Right before Christmas
From the end of Jan through the start of Feb
Summer
Mid-July through mid-Aug
Most tree professionals take rests and eat Macaroni and cheese for weeks at the end of January.
They keep their chainsaw under the workbench and look for ways to get rid of them.
Some sell their saw, and that's why the market will get a good number of used saws coming.
Xmas is a good occasion for all types of business. Right before Xmas, the money the tree guys need will recover from Xmas.
For a used saw, place matters more than time.
You can get the same saw at 25%-30% less on a local farm auction instead of eBay or a hardware/rental store.
You can check for offers on popular forums such as arboristsite.com or forestryforum.com.
Tip: You can do reverse engineering. Check on what models people are not talking about.
You can get those models at a much cheaper price.
Before buying a used chainsaw, take some time and research the products carefully.
If you want to buy online, there are a few websites to check and compare. Try to buy lightly used saws, such as in-home, garden, or yard.
You can find such "used" saws on classified websites if it is "likely new." I will mention a few renowned website names to check later.
Do not purchase the saw that has been used for more than 2 years. Older saws do not worth the risks.
You can find good pro saws around 1 year old and use those saws for firewood cutting.
But you have to spend a little time to find and check them.
If the price is the main factor, you can get a good deal for a used saw around the year.
But you must be careful to select the right one during slow times.
Most professional tree guys use chainsaws in spring.
They try to upgrade their saw for better performance and sell old problematic saws.
If you cannot check and judge a saw properly, you may end up buying a problematic saw.
Tree companies sell saws that are already dropped. crushed or run over.
So, before buying anything from them, double-check and ensure you get what you have paid for.
Where To get good deals for used saw
Local craigslist
eBay
Fleabay
Forums or community sites
Farm auction up the road (my favorite)
Final Thought
If you are a homeowner and your budget is $40-$50, I suggest not waiting for the right time.
You will never receive a huge discount for these models.
The same goes for the expensive pro saws most of the time.
The dealers make a little profile, so the chance of a huge discount is rare here too.