Best Chainsaw Safety Boots 2023 – These are Cut Resistant
Working with a chainsaw is quite risky, even for most experienced and skilled professionals.
This is the reason why wearing safety footwear, particularly chainsaw safety boots, is essential when using a chainsaw.
Cutting through branches and trees is never a safe task.
However, you could make it less hazardous by using protective equipment, such as goggles, a hard hat, and gloves, to name a few.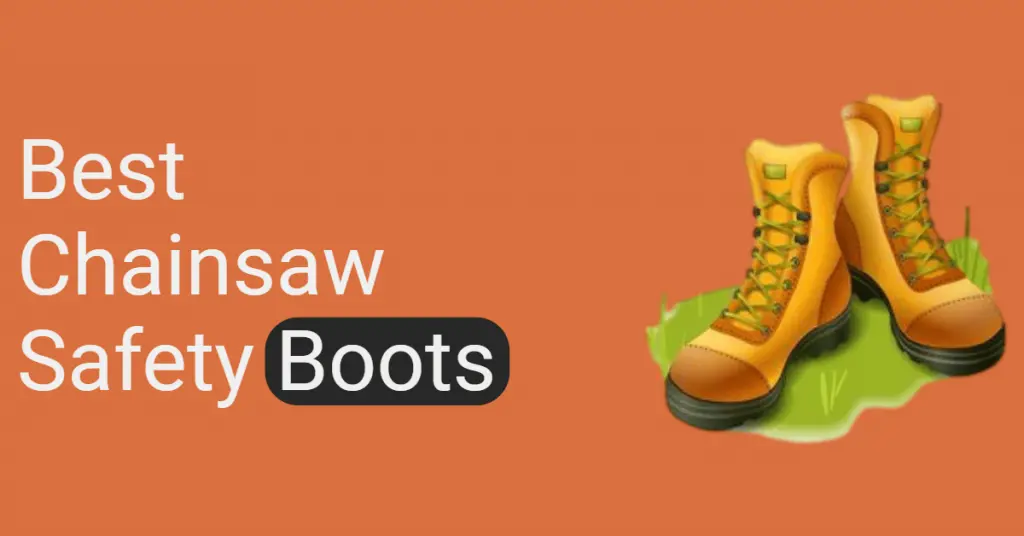 Sadly, chainsaw safety boots are an important safety device that most fail to put into the equation.
Unlike common steel-toe boots, chainsaw protective boots feature revolutionary textiles on their openings and front surfaces.
These sturdy yet defensive investments protect the feet from chainsaw kickback and falling debris.
At the same time, when you operate a chainsaw for cutting trees or using chainsaw mills, it can keep you from slipping on wet or snow-covered grounds.
If it is your first to purchase chainsaw boots – or if you are looking for a replacement for your old one – then take a pick from these chainsaw safety boots.
This article provides an in-depth guide on five top chainsaw boots and a well-outlined buyer's guide to help you choose the boots for you.
Top 5 Chainsaw Safety Boots of 2023
We have analyzed the top 5 safety chainsaw boots based on their size, Material, Toe, Shaft, and other features like prices, rating, and everything. Here you go and pick the right one.
Let's dive deep into the chainsaw world.
We are going to walk you through a lineup of top-rated safety chainsaw boots. Here are our favorite chainsaw safety boots with expert analysis and our buyer's guide below.
Other Options (Worth Checking)
Viking Footwear Class 2 Chainsaw Boot
Its shaft measures exactly ankle millimeters from the arch. It has a platform measuring precisely 0.5 inches.
It has a steel cap which is fitted over the toe. This metal can prevent chainsaw blades from moving at 24m/s and does not penetrate the boot or hurt one's toes.
The boot has high-quality Styrene-Butadiene Rubber (SBR) blended with Natural Rubber (NR). These materials are reinforced by cotton canvas lining.
The combination of these materials helps to enhance its durability. The natural rubber protects the boot from chemical damage as it is chemical resistant.
They also have an NBR lug sole, which helps reduce friction, lowering the weariness rate of the boot's sole.
This sole material also offers protection from oil and chemical damage. It also improves one's safety as they are slip-resistance.
They come with a rubber lace collar, which does not break easily. These laces also have reflective stripes to enhance safety.
They are ultra-flexible, with their flexibility exceeding a flex rating of 305,000.
They are highly preferable for professional harvesters, arborists, inspectors of log quality, planters, speeders, and plant maintenance managers.
Pros
They are quite useful in providing toe protection due to the steel cap fitted over the toes.
They provide comfortability, mainly due to their air-cushioned heels
They offer strong ankle and tendon protection.
Cons
They are not so good when it comes to breathability
They have a narrow top cuff, making it challenging to wear and remove them.
My friend used this boot for 3 months. He originally got these due to heavy rain last year causing some muddy boggy conditions around our large garden. He found he liked using them for far more than that though.
They became his main winter boots (with heavy wool socks), his main barn boots for the coop (though chickens love to peck at his leg through the pull-up hole: 'D), and just many quick outdoor tasks that need more than flip flops.
From the use he's gotten out of them they are extremely durable and still look new. He will be ordering these again in the future if his current pair ever manages to bite the dust.
Husqvarna 5440027944 Rubber Loggers Boots
It comes with a chainsaw cut resistance feature of 1910.266, which meets the standard set by the OSHA agency, which sets the standards of reliable protective footwear for people working in industrial settings.
They are available in the market in two sizes: the US, which ranges from 8.5 to 15.5, and the European, which ranges from size 41 to 50. The front part, over the toes, has a well-fitted steel toe.
This steel is of high quality and meets the ANSI and CSA regulation of, ANSI Z41-1999 I/75 C/78It is manufactured with a waterproof material, which makes it usable even in waterlogged areas.
It is made with natural rubber material fitted with a lining of the cotton pile to enhance its durability.
Its inside part comes with a four-layer insole to improve safety and comfortability. Its sole is made of high-quality nitrile rubber material, which acts as a protection from oil and chemical damage.
They come with a well-fitted ankle guard to offer maximum protection for the ankle. They also have a heel grip to ensure one's foot fits firmly in the boot.
Pros
They come with a competitive price tag making them suitable for both high- and low-income earners.
Suitable for use in swampy areas due to their water-resistance nature.
They are durable
They come with steel toe protection, making them useful in foot and toe protection.
Cons
This boot has no mechanism that allows adjustment making it less preferable for those with large calves.
Viking Footwear Bushwhacker Boot
It is manufactured with 100% heavy-duty cotton canvas lining, which makes it highly resistant to any external damage. Thus, making it durable.
It has a heel measuring precisely 1.25 inches, hence protecting the heel from sharp objects like sharp pieces of timber and thorns.
It has a well-fitted nylon ripstop cuff that helps to keep off dust and debris from entering the boot.
It has an NBR lug sole, which is friction-resistant. It is also resistant to chemical and oil damage, thus, helping to enhance the durability of the boot.
This NBR material also makes the sole to be skid resistance, thus helping in improving stability and, as a result, enhancing the safety of the user.
Its heels are air-cushioned for comfort purposes.
It is also fitted with Achilles tendons, metatarsal, and ankle to improve protection.
It has an improved chainsaw protection system, which incorporates layers of textile, rubber, and high-quality grade nylon.
It is ideally preferable for professional harvesters, arborists, inspectors of log quality, planters and speeders, as well as construction machinery maintenance managers.
It comes with a design that makes it compatible with ice studs.
Pros
They are comfortable since the heel is cushioned.
They are made with waterproof material
They are useful in offering toe protection.
Their sole is oil, chemical, and friction resistance.
Cons
They lack felt liner
They have a poorly fitted chain protection foam that can move and hurt your leg.
Georgia Boot Men's Loggers G7313 Work Boot
Its make is 100% leather, which is pure cowhide. It makes it highly durable and resistant to damage by intense solar heat. The leather material makes this footwear more flexible, soft, and water-repellent.
They have an orthopedic insert that offers contoured support that gently conforms to the curves and lining of one's feet. They have a design that makes it easier for one to remove inner soles for cleaning.
It has an improved and reliable lace-up closure system made of solid stud eyelets and hooks, which are fitted on steel washers, hence making it difficult for them to pull out.
It is made of high-quality waterproof material, which makes it suitable for use even in swampy places. They have a logo patch on its tongue, which improves the toe safety it provides.
They have a shaft that measures roughly ankles from the arch.
Their soles are made of rubber, which makes it be abrasion résistance, thus, reducing the speed of weariness of the sole and consequently improving its durability.
Their height measures approximately 8 inches, and their weight is commonly 6.1 pounds for every pair of the size of 10. They have a rear pull loop.
Pros
This boot is water-resistance, hence usable in waterlogged areas
It has sufficient breathability.
They have padded steel toes which enhances toe protection
Cons
The laces can get dirty quickly, thus requiring frequent washing.
It is a heavy boot making it uncomfortable for walking.
Ariat Men's Groundbreaker Pull-On Work Boot
This footwear has a manufacturing design that is cowboy-inspired. Their make is 100% full-grain leather and has a stitch pattern, which is two-row. They come with a pull strap, which makes it for one to wear them in and out.
They have a round toe mesh lining which enhances breathability. This helps to make one feel comfortable even if one spends long hours wearing this boot.
Their soles are made of rubber, which causes them to be friction-resistance and durable.
Their shafts measure about 11.5 inches from the arch, thus, making them more effective in offering protection from the chainsaw. They have a steel safety toe that meets the standard rating of ASTM
They have highly-cushioned air heels, which enables them to provide extra comfortability to the user.
They have a high-quality, heavy-duty outsole, which acts as chemical and oil resistance. The outsole is also skid-resistance, hence reducing the chances of sliding or falling and, as a result, lowering the chances of injuries.
They come with a design of 90-degree heel, which makes it comfortable for one to walk even in rough areas.
Pros
These footwears are cut and puncture resilient
They have a well-padded steel toe cap to improve toe protection
The leather that makes them is high quality making it more durable
Cons
They are not easily flexible, thus making it inconvenient for those with large calves.
Matterhorn 10-inch Steel Toe Chainsaw Boot
When it comes to protection to every corner of your foot, your choice is the Matterhorn 10-inch Steel Toe Chainsaw Boot.
This comfy yet shielding footwear is made from water-resistant full-grain leather and 7 layers of puncture-proof Kevlar fabric that can keep your foot in one piece in the event of a worst-case chainsaw scenario.
If your work requires you to linger in wet conditions (i.e. the rainforest) then Matterhorn's waterproof Gore-tex bootie can keep your feet dry and subsequently, free from fungi-related infections.
With its steel toe cap, Vibram sole, and strong steel plate, other parts of your feet are guaranteed safe as well.
The Matterhorn Steel Toe Chainsaw Boot, at under $400, is definitely a good investment. Not only is it built to last, but it is also very stylish – if ever you worry about looking good in the workplace.
Foot protection, you say? Nothing compares to the qualities of the Stihl Pro-Mark Professional Chainsaw Boots.
Its inner structure is lined with an Engtex cut-retardant fabric made with bulletproof Kevlar material. It also comes with an extra-wide steel toe, making it perfect for those with big and wide feet.
Another good thing about Stihl Pro-Mark is that it is as comfy as it is sturdy. It comes with a special footbed that keeps your feet cushioned and dry, despite heavy rain and constant moisture. It also features steel climbing shanks for slip-resistant ascents.
It might cost almost the same as a chainsaw. But there is a cheaper chainsaw which costs under $50.
Oregon Chainsaw Resistant Boot
Protect your toes, feet, ankles, and shins with the use of the Oregon Chainsaw Resistant Boot with leather upper and caulked sole. It comes with a revolutionary design that keeps 'other' foot parts vastly protected.
Featuring a Class 1 steel toe and plate, this boot can keep your feet safe and intact in case your chainsaw goes berserk.
With a chemical/nitrile-oil resistant rubber sole, you can avoid slippage and any perforation that these substances can cause.
It's leather upper and caulked sole, on the other hand, can keep your feet comfy and dry – a must if you need to saw, trim and cut all day.
Since this model from Oregon comes with CE Class 3 – the highest rating for all chainsaw protective boots – you don't have to worry about the safety of your lower limbs, no matter how perilous your sawing job might be.
It might be a little expensive at $$$ a pair, but it is still cheap compared to the expensive hospitalization fees that you might accrue with an on-the-job injury.
How To Choose The Chainsaw Boots
Finding the right and comfortable safety footwear can be a challenging task.
In selecting safety footwear, you need to select the best, that will give you maximum protection from the chainsaw and other injuries that might occur when using a chainsaw.
Here is a guide that will help you choose the top chainsaw boot next time you go shopping for one.
Steel Toes Caps
Even though steel increases the weight of the boot, the shielding it provides to the toes cannot be foregone. It protects the foot from being hurt by falling objects in the wood.
Therefore, the chainsaw boot needs to have a steel casing at the toe box.
Outsole quality
The quality of the outsole determines the effectiveness and resilience of your footwear.
The chainsaw boot should have an outsole that is chemical, oil, and abrasion resilient to improve durability.
It should also be skid-resistance to enhance stability, thus, improving safety.
Protection Class
Chainsaw boots are divided into three principal protection classes according to the resistance capacity of a particular chainsaw speed.
Class 1 prevents penetration of chainsaws moving at a speed of 20m/s. Class 2 is resilient up to a speed of up to 24m/s, and class 3 resists chainsaw running at a speed of 28m/s. The higher the class of protection, the more resistance it provides.
Penetration Resistance
One of the major reasons why one buys a chainsaw boot it to prevent penetration of the chainsaw or any other sharp object in the field.
Thus, you need to look for a boot that has a steel plate or strong midsole that helps to prevent penetration.
Legislation
For footwear to be considered safe to wear when one is using a chainsaw, it needs to have meant particular regulations like the EN ISO 20345.2011 standards, that ensure a chainsaw boot can endure the impact of up to 200 J. This helps you to avoid buying a substandard chainsaw boot.
construction material
The material that makes your chainsaw boot determines in a big way how convenient your boot will be. Boots made of leather are more durable and lighter.
You should also check the manner in which the sole is attached to the shoe, as this will determine how long it will stick to the shoe.
Comfortability
Chainsaw boots need to offer maximum comfort to avoid health risks like blisters, bunions, and corns. Comfortable boots also help to reduce fatigue, especially if most of the time, you are on your feet. Thus, ensure you select a boot that fits you properly and have the right weight for you.
Breathability
It is vital for your feet to breathe, mainly, if you are always active the whole day.
Thus, you need to select a boot that has a design that allows fresh air inside the boot, and those with interior pumping action that expels excess humidity in the boot.
This helps to maintain cool temperatures for your foot at all times.
Durability
No one would like to buy a chainsaw boot that starts to show signs of wear and tear within a short time.
Therefore, in selecting your boots, you need to go for one with high-quality stitching and able to endure the pressures exacted on them.
Easy to Use
Having to break in chainsaw boots is an unpleasant experience for one to have. To avoid this, you need to choose a boot that allows flexibility and has an adjustable pliant and soft tongue.
This makes it easy and quick to pull on your boot and remove them.
Working Environment
If you work in a cold environment, you need to wear well-insulated boots to provide sufficient warmth for your feet.
If your workplace is slippery or you need to do numerous climbing, you need boots that are slip-resistance and have ankle support, respectively.
Lightweight
Wearing a chainsaw boot that adds extra weight to your feet may make you feel uncomfortable and get tired quickly.
Thus, you need to choose a boot that is not too heavy for you, which would allow you to walk around without much trouble.
Budget
In most situations, an expensive boot has better quality, is safer, and more durable.
Though it is good to buy what you can afford, it is also advisable to choose quality over budget.
But care should be taken not to pay more than what a particular pair of boots is worth.
safety features
The reasons why one needs to have chainsaw boots and not just any other pair of shoes are the safety features in these boots.
These features include cut protection, waterproof, bend resilient, rubber sole, and steel cap. You need to write off from your list any boot lacking these features.
Ease of cleaning
It is evident that after rounds of tree felling, one needs to clean his chainsaw boots. Avoid immediate cleaning of your boots will gradually damage them.
Some boots will need a washing machine while others require a brush or sponge to clean. Thus, you need to choose one that is convenient for you.
Comfort Footbed
Uncomfortable footbeds may cause health risks like sores. A suitable footbed is able to insulate the foot from extreme cold or heat.
It should also be capable of molding to the shape of the user's feet to make them fit comfortably. This will make you feel more comfortable in your boots.
How to clean chainsaw boots after using them?
Cleaning is an essential maintenance activity done on any set of chainsaw boots. Without it, even the most expensive and durable pair of boots will not last for long.
Here are some tips that you can follow to clean your shoes adequately.
You start to clean your dirty boots by first brushing off any excess dirt, whether it is sawdust or mud.
If you find there is no need for washing them with water, then you can use a shoe polish of good quality. Shoe polish helps to keep your boot shining and improve its breathability.
If you need to clean it with water, remove the insole and wash it separately. Taking care of the insole is vital for the protection and comfort it offers to the footbed.
Then using a brush or sponge, clean the boot thoroughly both inside and outside. Use clean water to ensure that the boots have been adequately cleaned.
To make them dry effectively, put them in a dry place in the room, and let them dry at room temperature, not on a heating vent.
In this way, your boots will be ready for use the next day.
How to store chainsaw boots for long-lasting?
How you handle your boots when they are not in use influences in a big way how long they will last and remain effective in their task.
Thus, to avoid early wear and tear, you need to store them properly. Here are some tips to keep your boots safe.
Put them on a dry place or shelf, free from wetness that can cause molds to grow on them.
Additionally, avoid putting them in a place where they are exposed to the sun, as this would gradually weaken your boot material, hence reducing its durability.
Put your boots upright and each standing on its own to allow air circulation. You should not pile them together.
Ensure you store them when clean, keeping them with dirt will make them wear quickly.
After use ensures you lift out the insole, which is uniquely designed, and place it upright into the boot. This helps to maintain the role of the insole in protecting bones and joints in the feet as well as enhancing comfortability.
How to use chainsaw boots for getting the most protection from them?
It is difficult to eliminate the risks brought by chainsaws. But with proper use of chainsaw boots, you can prevent these risks from occurring to almost zero.
Here are tips on how best you can use your chainsaw boots to obtain maximum protection from them.
Ensure your boots are well-fitting to avoid any mess with the chainsaw, which would cause injuries.
Always put on your chainsaw boots whenever you are cutting down trees or pieces of timber since they provide protection from debris and pieces of chips that are flying at high speed. This debris is usually sharp, and in case you are not wearing your safety, footwear can harm your feet.
Wear them when walking on slippery areas, since they are slip-resistance, they prevent you from sliding and falling.
You can also put them on when walking in a forest or through woods since they have excellent grip and offer protection against insect bites. Their big-size soles also protect your feet from sharp twigs, thorns, and stones.
Type of accidents that can happen due to not using chainsaw boots
Chainsaw boots help prevent several injuries, which without them would cause harm even to professionals like arborists and harvesters and any other person who uses a chainsaw.
Some of these accidents that can occur when one avoids wearing chainsaw boots include:-
Foot and toe cuts from running chainsaw. The primary purpose of a chainsaw boot is to protect the user from these cuts and their make, enabling them to meet this purpose adequately. without them, one is exposed to the risk of a chainsaw penetrating the show he is wearing to the foot.
Electrical shock, most chainsaw boots are able to absorb electrical shock, a feature that is absent in other ordinary boots.
Injuries from sharp objects like sharp stones and thorns. The soles of ordinary shoes are not resilient to the penetration of these sharp objects. Thus, without chainsaw boots, one is at risk of being injured by these objects.
Sliding and falling can cause harm to one's body. The sole of these boots is slip-resistance and provides an excellent grip, which improves safety, hence preventing one from falling.
The Final Word
It is clear from the information given above that chainsaw boots are vital protective gear for anyone working using a chainsaw. But as it can be seen, its benefits are not limited only when one is using the chainsaw.
If you love outdoor activities like hiking and taking adventure walks in forests, these boots can also be convenient for you.
When it comes to logging and dissecting trees, don't forget to keep safe from possible accidents! Maintain a complete pair of toes – plus two working feet as well – by making use of the chainsaw protective boots, as mentioned above.