Can you rent a chainsaw at Lowes
Yes, you can get a chainsaw on rent at Lowes. The tool rental price varies per tool, the time you rent the tool and demand. Mostly the hourly chainsaw rental is $35, the daily is $49, and the weekly is $190.

The Author
Apartment owners or renters have limited storage space, which is why many home improvement staples such as sawhorses, miter saws, and some small power tools such as jigsaw, electric sander, or angle sander remain unfeasible to buy.
It is hard to sell a tool in the marketplace. Now you can rent a tool.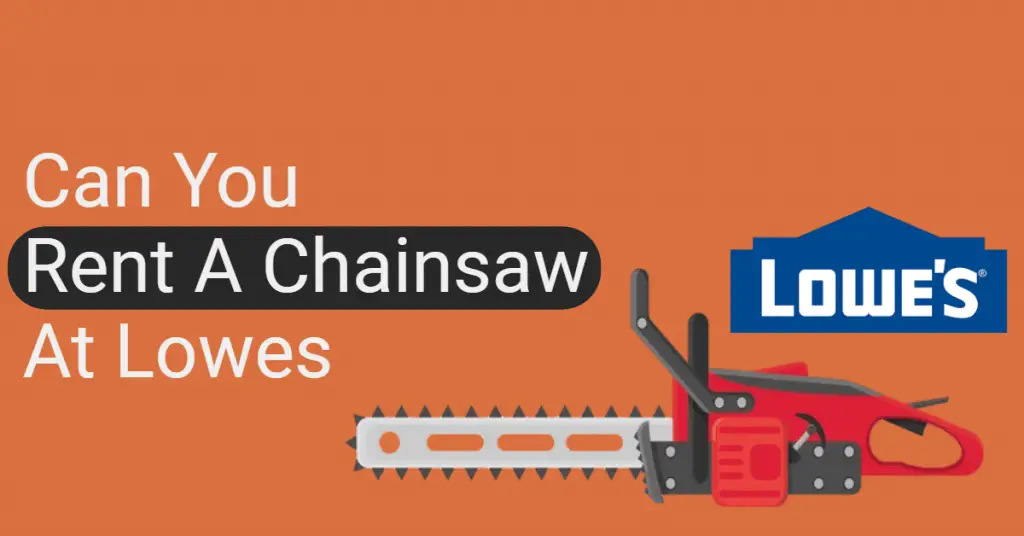 Can you rent a chainsaw at Lowes?
Yes, you can get a chainsaw on rent at Lowes. The rent varies with demand.
Mostly the hourly chainsaw rental is $35, the daily is $49, and the weekly is $190. 
The company announced tool rental in 2020 and began rolling out tools nationwide to rental departments.
Thus, it creates a shop of one-stop for all equipment and tools.
You can also rent a hand truck or an appliance if you need more hauling capacity.
You can get trailers for rent, including solid wall, garden, and lawn trailers. 
Can you rent other tools at Lowes, and what will be the cost?
Yes, you can rent tools at Lowes. The tool rental price varies per tool and the time you rent the tool.
Lowers give their tools on rent per day, approximately $25 to $65. The availability of the tool ranges from four hours to four weeks.
Renting a tool at Lowes is not a big problem.
You may pick a tool and make a reservation in the store or online by confirming the rental date.
You can also buy through self-service kiosks. However, carry a credit card and valid ID while picking up a tool. 
There are expensive tools such as the towable stump grinder for $138 per day rent, and the trencher of 30-inches is per day $171 at the North Carolina store.
However, the smaller tools will run at $144 a week or per day at $36. A chainsaw of 14 inches is per day $43 and per week $172.
At Lowe's, you may rent commercial-grade equipment and tools that many professionals buy. Thereby they avoid spending more on buying new.
With a rental, you need not worry about storage or maintenance.
renting at Lowes?
Tool rental was not easy, but now that many are taking on DIY projects, Lowes offers tools on rent.
They offer rental options nationwide for homeowners looking to get to work and make their hands dirty or roll up their sleeves. 
Lowes was established in 1921 and has been around for over a century.
A few decades ago, a transformation took place, and consumer-focused home improvement pieces of equipment came into existence.
Lowes, over the years, has blossomed in this home improvement industry that follows Home Depot as the second global retailer.
Giving tools on rent is not the only option, joining this segment, you can enjoy cost-saving while you can clear and get more work done.
The worry of storing the tool or piece of equipment is also ruled out, or there is no need to break your savings to buy each tool.
About Lowe's
 Lowe's Companies, Inc refers to a home improvement company serving more than 18 million customers weekly in the United States and Canada.
The sales in the year 2019 were $72.1 billion. Lowe's, including its related businesses, operate or service over 2,200 home improvement and hardware stores, employing approximately 300,000 associates.
It is based in Mooresville, N.C., and Lowe's serves through programs focused on creating affordable and safe housing, thereby helping to develop skilled trade experts in the next generation.
Basic tools for rent
Renting tools ability is better than buying and storing them in the home.

Even the way you approach or customize projects is better with rental tools.

No matter, if it is your home or you are a renter, lacking essential tools is a common problem when you want to complete a project.

It is at such time the basic tools available for rent, such as hammers, clamps; garden trowels, etc, are helpful.
Renting an item is cost-effective, as you do not need all the tools at all times.

Many tools you may need for one-time use, and you will not reuse them.

In such situations, renting tools is the best.
Lowes offers specialized tools and heavy machinery pieces to complete home improvement hardcore projects.

These are besides the cutting tools, standard drills, and other tools at Lowe's stores that are on rent.

You can also get concrete tools in a range that includes welding equipment, earthmovers, concrete tools, scaffolding equipment, and a lift.
The rental options are an expanded list, and Lowe's offers a fantastic choice to suit any home improvement project.
You can also find tools that are hard-to-find pieces that will be expensive for single use.
In this way, you can reduce costs or take on projects that seem impossible.
Lowe's is the right place for DIY customers and professionals to rent pieces of equipment and tools from their Lowe's in the local area.
The tool rental department features:
A fleet of commercial-grade equipment, including, Husqvarna, Metabo HPT, and Bosch, the trusted brands.
It may include an assortment of restoration, drain cleaning, concrete, and sanitation tools, besides cleaning solutions and protective equipment to buy, besides the rental tools merchandise.
A team of knowledgeable associates, ready to provide demonstrations, and hands-on products. A fully equipped mechanic shop in a large space to shop for service tools, on-site product demo areas, and more.
Efficient technology enables the convenient and easy process of check-in and check-out with online reservation and self-service in-store kiosks, and digital documents to be viewed and signed from your mobile device.
Conclusion
Buying each of these tools is hard, and is sometimes difficult to find.
It may be expensive to buy in the retail market, besides they are large pieces.
A casual DIYer may have trouble taking projects such as laying a new deck in the backyard or giving a clean finish.
With Lowe's tools and chainsaw available for rent, makes work easy.