How to Pack and Carry A Chainsaw on Bikes/Scooter Safely
Carrying a chainsaw can be dangerous and can cause injuries if not packed properly and with proper safety precautions.
You have to be very careful when you carry it, especially if you are traveling on a bike or scooter.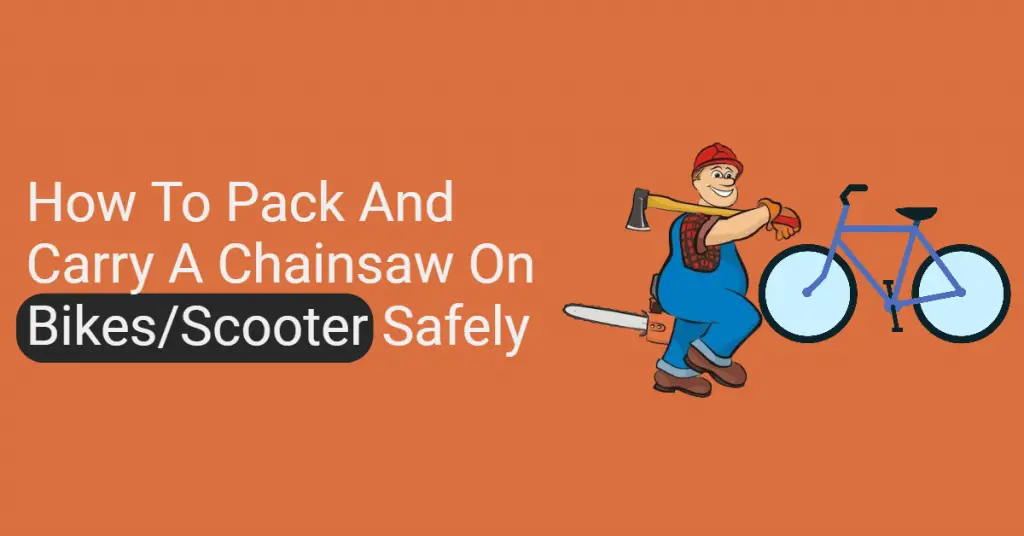 ​How to pack and carry a chainsaw on bikes
Many people like to carry their chainsaws on their backpack.
Certain travel bags help in this regard where the blade is left on the open with full exposure.
Don't worry, there are blade covers or blade caps that are available in the market that cover up the blade and so you will be secured.
There are some bags that are available in the market that can help you pack the chainsaw.
You have to make sure that the bags are of good quality and have strong straps to assist the chainsaw and its blade.
You can also bring out the chainsaw chain and pack it safe, this will make the packing much easier and safer.
So, when you are riding your backpack, the chainsaw that is packed on your backpack will be there with you hanging at the back.
It is as simple as that.
However, many people attach several compartments in the bikes or motorbikes.
You can keep the packed chainsaw on those compartments.
There is another option too, where you don't even have to pack the chainsaw in a bag pack.
You can use the customized chainsaw mount process to keep your chainsaw attached to the bike.
There are certain parts and gears that are available in the market to make your life easier.
You can either make the mount by buying different parts or customize it to fit your chainsaw or you can buy an entire compartment.
A battery chainsaw is a bit ​heavier compared to electric chainsaw, but for working in remote area it is easy to carry.
A chainsaw mount, specifically designed for your comfort while carrying the chainsaw on a bike will definitely help you get rid of all hassles.
If you are riding a normal bike, the extra weight of the chainsaw engine can cause problems, so extra compartments is usually helpful and useful.
It is easy to carry and use chainsaws with ​16″ bar or less. The larger the bar size is, the harder it becomes to carry.
​How to pack and carry a chainsaw on scooter
Carrying a chainsaw on a scooter can be challenging.
The weight of the chainsaw, especially the engine can make you tired and uncomfortable, especially if the machine is packed in a bag pack.
However, it all depends on the type of scooter you are using.
For example, carrying your chainsaw on a kick scooter will be highly challenging, if you are traveling long distances, if not, it may be safe and less exhausting for you.
Electric scooters would be more comfortable and it will allow you more space and comfort.
Some good electric scooters have extra space for keeping stuffs, so if your scooter has that feature, you can make use of it.
On the other hand, motorized scooters are the best.
You can build your chainsaw mount there and use all the gears that are available for the mount, just like how can do it on a bike.
It is more comfortable, speedy and saves all the headaches.
Moped scooters are less fashionable these days but they are good for carrying stuffs.
Many moped scooter has buckets or compartments for carrying stuffs.
You can keep your packed chainsaw their and ride as comfortably as you can without any hassles.
The good side of all of these scooter types are that you can customize your vehicle in a way that can fit your chainsaw.
There are certain gears and parts available in the market for that.
In fact, if you are creative enough, you can also use your chainsaw engine to power your scooter.
Many people have done that and have enjoyed a lot riding their scooters that is powered by a chainsaw engine.
You can simply install the engine and let it run while carrying the other chainsaw parts with you.
​By the way, ​scooter is a good option if you have to carry chainsaw mills ​and chainsaw together to a remote place.
​How to carry a chainsaw on backpack
There are many brands of personal backpacks available in the market that can make you easily pack the chainsaw there.
Most of them are especially designed for carrying chainsaws.
Many professional workers have raised concerns about carrying their chainsaw during their work.
They may have to climb up the mountains for their work and for that they need good backpacks to allow them to carry their chainsaws safely and comfortably.
Even if you are not a professional, you can buy those bags and carry them anywhere without any inconvenience.
Also you need to be sure that the bags have a lot of space and proper pockets to keep those extra small items.
Moreover, keep in mind that it is good for the bag straps to be long, so that the bag can hang flexibly at the bag.
Strong straps provide good support in this regard and allow more assistance for carrying heavy weight objects while waking long distances.
If you think your shoulders are becoming tired during the lengthy timeframe of carrying the bag.
You can keep the bag in front of your for a while, letting it hang in front.
This however is not possible to do for a longer period of time because of the extra weight that the chainsaw engine possess.
If you are walking, you can always take rest, sit on a grass maybe or if you can find a sit, that would be great as well.
If you are cycling, you can always stop to rest.
Always be sure not to get caught up by the fact that you are carrying an object that can cause damages.
If you have all the safety gears on, you have nothing to worry about.
​Conclusion
If you own a chainsaw, you definitely have a lot of passion for it, especially if you are not cutting trees for professional reasons.
It is incredible to see the amount of creativity you can use with all the gears that are available for you chainsaw.
You can simply built!