How To Reset Echo 58-Volt Battery Charger
Pull out your battery from the chainsaw, and press the battery button sustainably for a minimum of 5 seconds before you release it. At this point, the battery will reset, and your next action is to refix the battery.

The Author
Failure to recharge, slowness in charging, or the charger no longer holding a charge are a few issues you would likely face while using the Echo 58-volt charger.
Echo's products are reliable and strong, but just like every other device that depends on the battery, the charger is one of the constant issues faced by the users of Echo chainsaws.
The quickest way to resolve issues with a faulty charger is to reset it.
Resetting a charger is a straightforward process, but many users have yet to understand how it is done on the Lithium-ion 58-volt battery charger.
However, this article will guide you on how to reset the echo 59-volt battery charger.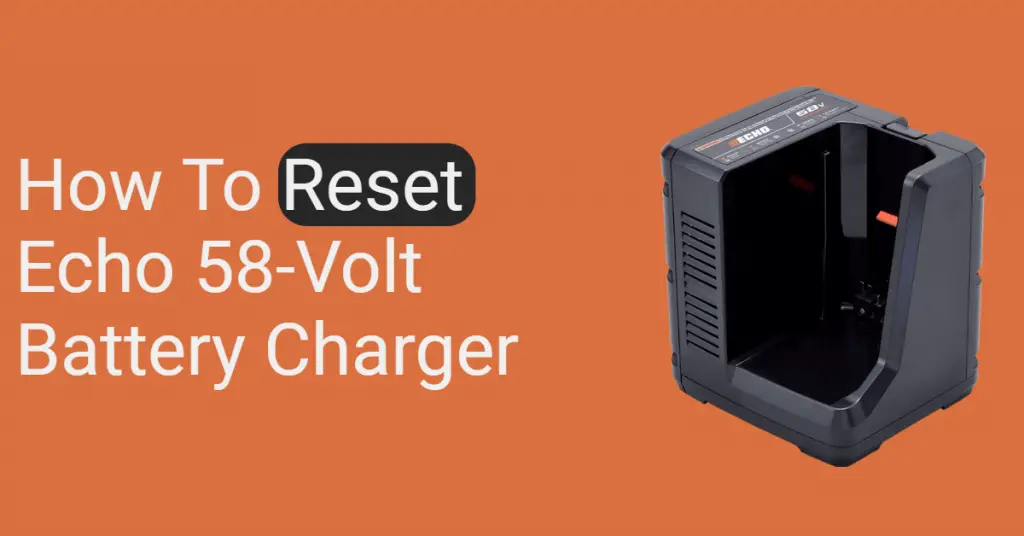 Resetting The Battery Of Echo 58-Volt Charger
The echo 58-volt battery charger is based on Lithium-ion; they are wonderful and masterpiece batteries that offer longevity and versatility.
You will surely enjoy this charger, but you will be highly infuriated when the battery develops issues.
If you try it out and it fails to charge, I guess you'll think your charger is dead. Right?
Don't worry. I have mentioned two methods of resetting the battery charger below.
1st Method
Resetting your charger is very straightforward and swift. Here is the kicker!
Pull out your battery from the chainsaw, and press the battery button sustainably for a minimum of 5 seconds before you release it.
At this point, the battery will reset, and your next action is to refix the battery.
At this point, your battery should return to its original status as normal.
2nd Method
Firstly, you should undertake the draining of the battery. Discharge it such that no charge is left in the battery again.
Keep discharging it until it can no longer boot, even when you try to switch it on.
Now, proceed by plugging the power cord into the saw and connecting it to the power source.
Leave the battery in charging mode for a minimum of 48 hours.
Your charger should reset after this time, but you might be worried that your charger will become weak and damaged.
Things To Remember
Focus on the points below:
The warranty for every product is very important, so you should check your product's warranty whenever you buy any product.
The price of a product should not deter you. Always go for the best product and not the cheapest.
The user's manual is a very potent item that you should not leave behind. Don't use any product without perusing the user's manual.
Don't try out random actions on your gadgets. It's better if you research the internet for more information about the product.
Your first action after noticing any anomaly on your charger or battery is to call for professional help. You still have the warranty, so why not make use of it?
Buy from trusted and proven companies only, and you should exercise enough patience while buying products. Take enough time to make findings of the product from the seller. With this, you will know more about the in-depth characteristics of the product.
Use your charger immediately after buying it; no need to keep or reserve it for months because it might get damaged.
Don't use your charger on random tools and machines. Power rating is not the same for all chainsaws, so using it on the wrong tool can be disastrous.
About Echo lithium-ion 58-volt battery charger
Echo chainsaws battery is polarized by a Lithium-ion 58-volt battery charger, a charger that applies advanced technology in offering excellent battery protection and extended life for the battery.
More so, the charging time is swift.
A fully discharged battery can be brought back to full charge within a blink, as the charging speed of the charger is awesome.
The battery – Echo 2AH Lithium-ion Battery has a recharging duration of 30 minutes.
The Lithium-ion 58-volt battery charger is tailor-made for Echo chainsaws.
Being a top-notch and professional-grade charger, it has several advanced features that boost the battery life.
Firstly, the charger is cordless and operates at a high voltage.
The charging technology is vastly innovative and is well-knitted to make the life of the battery more extensive.
Professional users love it because they can use their chainsaws to work without bothering about the battery.
Within 30 minutes, they can recharge and reinvigorate the battery for further use.
With this, they can undertake big jobs without any fear of experiencing low-battery problems.
If your charger develops any issues after 90-days, Echo will fix it for you because they offer a 90-day money-back guarantee.
More so, the warranties associated with the product are quite awesome – a consumer warranty of 5 years and a commercial warranty of 2 years.
In summary, here are some of the features of the charger:
It has great compatibility with virtually all ECHO 58V Lithium-ion deliverables.
It has an average recharging duration of 30 minutes when used on ECHO 2 Amp Hour Lithium-Ion Battery.
The average charging duration is one hour When used on ECHO 4 Amp Hour Lithium-Ion Battery.
It delivers optimal charging that is advanced, protects the battery, and offers extensive life.
Final Thought
There is no doubt that any fault on your charger will spell doom for you.
You will face serious frustration and pains; hence, it would be best if you perused this guide carefully.
Don't rush to replace your charger with a new one; resetting is always an excellent option!
Firstly, you should harness your warranty before you consider taking it to a professional for repairs.
If your warranty is no longer active, then you should peruse the manufacturer's manual keenly.
On the whole, the resetting steps in this article will help you a great deal.