Are Alpina chainsaws reliable?
Alpina Chainsaws is one of the tools in the market popular for its best components of lightness, quality, ease of use, maneuverability, and safety.
Selecting a chainsaw of good quality implies selecting a known manufacturer for his product's reputation to be long-lasting and durable.
People look for the reliability of chainsaws because chainsaws are used in harsh conditions.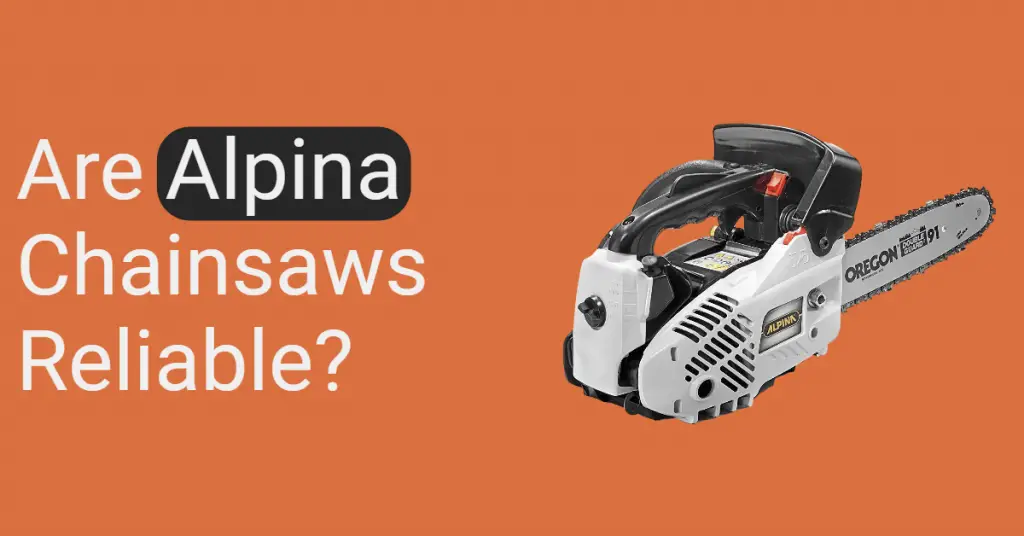 What are chainsaws?
Chainsaws are powerful and versatile garden tools, yet finding the right design and size for a cutting project is crucial.
Selecting the wrong chainsaw is a waste of money and dangerous.
Picking the right chainsaw is to consider it does not make much noise as you may be using in the noise-restricted urban areas.
Also, check with its power source.
Alpina chainsaws
The Alpina chainsaw ensures it is perfect for professional use.
It is well-balanced, compact, and light, assuring fast cutting, perfect work, and is good for intensive work and long periods.
This is an ideal tool offering extraordinary versatility making it suitable for people working in gardens and parks.
It also is easy to cut on aerial platforms or even position on high ladders requiring a powerful chainsaw.
The Alpina chainsaws are of two types, petrol and electric.
It includes efficient and practical models suitable for domestic and agricultural use.
It has safety measures and easy-to-maintain mechanics in line featuring the latest international specifications.
This tool presents a clean-cut and pleasant Italian finish, powerful motors, styling, and sturdy features.
The Alpina chainsaws of high quality are comfortable and reliable to offer great satisfaction.
How to buy a chainsaw online 
People choose to buy chainsaws online, and it is easier to find one at cheaper and comparable prices.
The online prices are the lowest in the market, as they do not have physical shops, maintenance, staff costs, rent, etc.
It is the reason the online shops give a touch price competition.
Home delivery cost-free is coming with online shopping.
You need not waste time in the physical shops and save the trouble of getting the chainsaw home.
Different types of chainsaw
The chainsaw types are:
Battery-powered
It gives the benefit of not struggling with extension cables. You may recharge between uses.
Choosing this type should be done assuring it comes up with your entire task, such as tree felling and crosscutting.
The fact is that battery-powered chainsaws are rarely appropriate for large trees.
Note: Even if you prefer a battery-powered chainsaw, get a brushless motor to enjoy a longer lifetime.
Mains powered
Mains powered chainsaws feature the functioning of electric start offering the benefit of being neater and lighter than petrol ones.
It is suitable for home use, small trees, small garden purposes, and fewer trees.
Electric and battery-powered chainsaws offer one advantage it does not release exhaust gases and are quieter, and used indoors and in urban areas do not cause much disruption.
Other facts to consider while buying a chainsaw
Internal combustion engines
This is ideal for a garden featuring big trees, anyone with woodland, etc.
They can have a petrol-driven chainsaw that is often heavier and features a higher capacity, not requiring a cable.
Petrol-operated chainsaws are suitable for any homeowner equipped with a two-stroke motor.
However, getting chainsaws with four-stroke motors is powerful.
Vibrations
Vibrations are apparent on using a chainsaw.
Thus, it is important to consider there are no powerful unnecessary vibrations as in the long term they will lead to injuries.
Cheap machines have vibration worse absorption feature, so it is not worth using for a longer time.
Ergonomics
Cutting down trees is not easy on the body.
The crosscutting working position is not exactly ideal, so ergonomics is important when choosing a chainsaw.
Ensure the weight is right; the grip is good allowing to saw for longer periods.
Special functions
The simple stop and start command functions are common.
The opportunity of varying the bar for different tasks is a useful function.
A short bar length is good for limbing, while a long bar must cut down bigger trees.
Professional chainsaws feature premium function with heated handles, allowing working even in winter.
A few tips to avoid problems:
Do not buy a chainsaw without seeing, inspecting, and touching it.
If you buy it online, ensure they give you a 30-day warranty at least.
Buy chainsaws from well-reviewed and trusted companies' sites so that you are assured of sturdy parts. These companies offer service departments in every place. 
Educate Yourself
Buying a chainsaw, a Chinese-make is easy, and it is no harm in buying any unseen machine online.
However, you must learn that buying a reputed chainsaw such as Stihl or Alpina chainsaw assures quality.
Thus, there is not much to worry about as they have facilities offering repair and warranty. 
Take enough time to educate yourself about chainsaws and their reliable features and maintenance requirements.
As a beginner, you need not look for specific requirements. You may check the safety features, bar length, and kickback. 
Chainsaw manufacturers use lighter and newer materials to build durable and powerful machines.
A bulky chainsaw may be harder to use, so look for lighter weight and smaller chainsaws. The tips are:
Buy a non-kickback attachment featuring a chainsaw to ascertain your safety as a user.
Try both electric and gas-powered saws
Examine all the chainsaw parts
The most vital thing in buying physically is to put on work gloves, spend an hour or two, visit a few dealers, and try out a few chainsaws.
It is best to ensure you get a quality chainsaw to last for a few years.
This feature is not for online buyers.
Final Thought
Alpina chainsaw is reliable, and you have to judge your usage before buying one.
Depending on your usage, check and buy a chainsaw that fits your appropriate needs.
It should be lightweight, portable, and useful to call reliable chainsaws offering a good performance.
Alpina chainsaws, the Italian make is making the right choice after Stihl.