Best Gas Chainsaw Under 300 (2022)
A gas chainsaw is a necessity for any homeowner. Chainsaws are not only great for cutting down trees, but they're also an invaluable tool when it comes to clearing brush and other debris from your property.
If you're looking for a good deal on a quality gas chainsaw under $300, then this blog post is just what you need! Keep reading to see our list of ten top picks.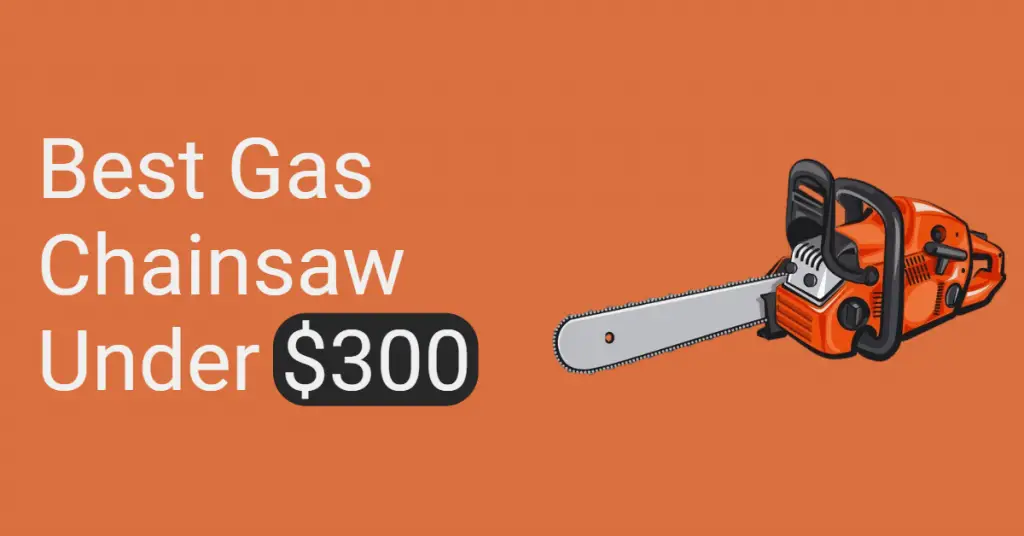 Gas Chainsaw Under 300
Husqvarna 16 Inch 130 Gas Chainsaw
When it comes to cutting wood around your home, nothing cuts better than a Husqvarna chainsaw.
The Husqvarna 16 Inch 130 Gas Chainsaw is perfect for homeowners who don't want to lug around a heavy chainsaw, but still need the power that this gas-powered model offers.
This lightweight Husqvarna model is just what any homeowner needs for the job.
The lightweight, low weight of just 5.67 pounds makes it easier on your back when you're carrying it in and out of storage spaces in between projects.
Being light in weight this model provides great portability without compromising power or performance. 
With an X-Torque 2 cycle engine presenting less fuel consumption with reduced noise, this model will quickly become your go-to choice.
You'll also love its 38cc capacity which means it can cut through more than 16 inches of material without bogging down or stalling.
The 16 inch guide bar combined with the powerful engine delivers all the sawing power you need without being too cumbersome.
With its automatic chain oiler system, you'll be able to make quick work of pretty much anything that obstructs your path!  
If you're looking for something which will stand up to tough tasks then look no further!
Craftsman CMXGSAMY426S 46cc 2-Cycle Full Crank 20-Inch Gas Powered Chainsaw
This chainsaw is the perfect tool for homeowners and professionals, looking to accomplish various tasks around the property. With easy start technology, this chainsaw begins up in mere seconds.
Offering 3-point anti-vibration system, you never have to worry about injury due to fatigue and discomfort!
With a 46cc 2-cycle engine, professional bar and chain design, easy pull start, padded handle grip, and anti-vibration system for more control, this chainsaw is top of its class.
HUYOSEN PRO Professional Gas Chainsaws
The HUYOSEN PRO gas chainsaw is ideal for professional users who need a powerful chainsaw that can handle any type of project.
Intended for forestry workers, commercial land keepers, and seasoned home woodworkers alike, this product presents a highly powerful 65cc 2-stroke engine capable of prolonging your workday with less complexity.
It provides rugged construction giving you greater power along with reduced vibration – making sure not to exhaust themselves during long workdays! 
It is an industrious chainsaw with a heavy-duty 24-inch guide bar (size-3/8″ pitch) perfect for tree removal and firewood cutting.
Equipped with 84 drive links sized at .058 inches on its side (.050″, or 8mm), it can tackle the toughest of projects without fear of damaging the tool against stout trees.
This two-cycle engine paves the way for your work with its high quality and power cylinder. With precise cutting, excellent safety guard and auto return throttle, the HUYOSEN PRO 65cc gas chainsaws stands out as one of the top choices out there.
Poulan Pro PR4016, 16 in. 40cc 2-Cycle Gas Chainsaw 
This chainsaw is the perfect balance of power and maneuverability for light to medium-duty cutting.
With it's 40cc, 2-stroke engine and 16″ bar, this handle saw has plenty enough power for felling trees (but not like an axe) while still being easy to carry around. A must-have tool in every household!
Chipping away at the other guy's wood pile has never been easier with this Poulan Pro Chainsaw. You get a whopping 16 inches of cutting power, easy-starting 40cc engines, and a scrench to take care of any messes made while going through your yard.
This is truly the perfect tool for anyone who loves getting out there and sweating!
You'll never run out of power when you have this Poulan Pro Chainsaw! Its easy carburetor tuning system extends the life of your gas.
The chainsaw is lightweight with a comfortable handle to make long work days seem shorter so you can trim fallen limbs after the storm or take on some tree-cutting projects in just one go.
If you need to restore order after a storm, tame the wild greenwood, or take down trees without tearing them up-the Poulan Pro PR4016 is your chainsaw.
It can cut through logs easily. This strongman will help you out quickly and efficiently. Imagine how much faster you'll be able to clear those downed trees away now that it's at your disposal!
She may not have red skin like some other saws of her kin but don't get too close just in case because she still has just as many sharp teeth on board. She also packs more of a punch than some others from her family tree
Craftsman CMXGSAMA421S 42cc 2-Cycle 18-Inch Gas Powered Carrying Case Chainsaw
Our Craftsman CMXGSAMA421S 18-Inch chainsaw is a durable and powerful piece of equipment designed to make your work easier. It will help you tackle heavy-duty outdoor maintenance projects with ease.
The high power 42cc 2-cycle full crank engine provides steady output for tough pruning tasks, with the easy start system and cushioned handle making this chainsaw more comfortable. 
Untamed branches don't stand a chance with this machine's low kickback bar and chain that allows you better control in tight spaces, plus its bucking spikes and inertial activated braking system that helps you cut precisely without excess effort. 
Engineered for durability and dependability, the chainsaw offers enhanced control through low kickback bar and chain, automatic oiler, and easy start capability.
Keep the bar clean by using our automatic oiler which can be adjusted according to your needs – it also comes in handy for when lubrication creeps up on you in the yard.
 Echo Chain Saw, Gas, 14 In. Bar, 30.5CC 
Echo is the affordable, dependable choice for long-lasting performance without breaking the bank. The Echo Chain Saw features an anti-vibration handle to reduce muscle fatigue and make cutting easier.
The anti-vibration handle is perfect for those days when your hands just don't want to cooperate. Where durability matters most, you'll want echo by your side!
Do you have a tough job ahead of you? Even the toughest jobs are made easier with many great features from Echo, including an automatic chain oiler.
It features an easy tap auto oil system that automatically lubricates your chain during use for longer life.
The chain oiler makes it easy, convenient, and accessible to keep your chains sharpened throughout all of your tasks. One experience and you'll understand why we say Echo means "The perfect"
Even with its light weight, the Echo Chain Saw is not to be taken lightly! With a two-stroke engine and fuel tank at 8.5 oz., this particular saw has less than 10 lbs(6.42 lbs) of weight and can cut through wood like butter in no time.
Make your cutting jobs better with this Echo Gas Powered Chain Saw. It's perfect for camping sites, trail maintenance, downsizing storm debris, and more!
This silky-smooth engine is made for comfort. Designed to work in any conditions so you can take it anywhere – no need for extension cords & gas power means you don't need electricity either!
Get power and comfort with gas-powered 14 In. Chain Saw, 30.5cc Engine today!
Ryobi 18-inch 38cc 2-Cycle Gas Chainsaw
Presenting the Ryobi 18-inch 38cc 2-Cycle Gas Chainsaw. This chainsaw is built for heavy-duty, with both an anti-vibe handle and inertia-activated chain brake for increased comfort! These features make it a safer chainsaw than its competitors' saw.
It has an adjustable automatic oiler and side-access chain tensioner to ensure the job gets done right. The power of this chainsaw comes from its 3 point vibration isolation that ensures accuracy despite machinery fatigue or being left hanging in mid-air!
It also includes a safe-t-tip bar to combat rotational kickback. With full adjustability that allows you to customize this gas saw to your specific needs.
This powerful little machine can cut through trees with ease. Now you can enjoy the outdoors like never before!
This chainsaw also features a tough, heavy-duty carrying case for safeguarding your tools during transport or storage.
The carry case ensures your equipment remains safe while not in use or during transport. All of these features combine for one of the most dependable machines around! 
Makita EA3201SRBB 14″ 32 cc Chain Saw 
If you need to prune your tree, clear brush from a log or if it's time for some DIY lumber, here is the tool for you.
The weight, design, and handiness are just some of what you'll love about this saw that's designed to make work simpler.
With nearly 14 inches of the bar and lighter than its predecessor we went ahead and named this machine "lightweight." Everyone deserves a chain saw that won't weigh him down.
And not just any chain saw: this one has an easy-to-adjust tension so he can work smarter all day long, too! It starts on second pull—-wait till they see how light it is on their hands—and looks so pretty in pink with brown accents.
You know for a fact that there's more than one benefit to this Makita chain saw. For starters, its lightweight design is a must for efficiency on the Jobsite.
This means not only will you have less of a headache from lugging around the saw, but you'll be able to chop through that business with no problem. 
In addition, Makita engineered it so that tool-less chain tensioning is just as convenient as ever before.
There's nothing worse than having your drive train going out there on the job because you didn't tighten those chains tightly enough or forget about them entirely! 
With this innovation by Makita, I can guarantee no mistakes and smooth sailing at all times – perfect for your super busy days at work!
Poulan Pro PR4218, 18 in. 42cc 2-Cycle Gas Chainsaw
Life can be messy. If you're looking for a product that will help tame the mess, but won't leave a wake of devastation in its path, then look no further than this innovation from Poulan Pro.
This 42cc 2-stroke engine is powerful enough to efficiently tackle everyday tasks like removing downed trees and cutting firewood without exhausting you.
With 18″ bar length and an extra chain conveniently built-in to the saw, it's everything you need to make quick work of even the largest jobs, eliminating the need for additional tools or machinery.
It includes a signature carry case with every purchase so clearing up after ourselves becomes just as easy as making tracks!
So whether clearing up after nature strikes or tackling construction projects around your home, this saw is the perfect tool for anyone looking to fell trees or take care of some yard work.
Just load up on gas, oil, and chainsaw parts if they need any too. This baby has an 18-inch bar that can handle anything you throw at it.
SALEM MASTER Chainsaw for Trees Gas Powered 58CC 2-Cycle Gas Chainsaw
Looking for a Gas Chainsaw that is easy to start, energy-efficient, and powerful? 
SALEM MASTER is your ideal choice! 
58cc 3.0hp Powerful Gas Powered chainsaw with 18″ bar. 8500 rpm engine speed guarantees reliable power in tough conditions.
Low-kickback chain ensures safe cutting while fast-cutting produces more wood chips compared to other models.  This saw includes a high-capacity fuel tank for an uninterrupted work length.
This chainsaw is ideal for cutting firewood, or felling trees with much higher efficiency. It's equipped with high quality chain and hard bar that makes it fast cutting; also not easy to drop off chains even having a longer using time.
Conclusion
There are many brands that offer gas chainsaws, but it can be difficult to find a good one. Luckily, I've researched all of them and found a few models worth your consideration.
These ten names will give you an idea of what might work for your needs. Whether you need something lightweight or powerful, this article should help make this decision easier!
If you have any questions about which model is right for you, feel free to reach out!